Per Brobakke1
M, b. 2 May 1924, d. 2012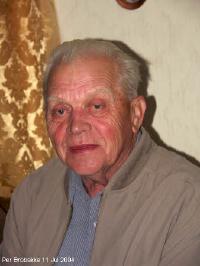 Per Brobakke, 2004
     Ahnentafel/Henry number 00015.232.
     Per
Brobakke
was born on 2 May 1924 at
Brobakke, Rugsund, Davik, Sogn og Fjordane, Norway
.
2,3
He was the son of
Einar Sivert Pederson

Brobakke
and
Oline Josefine Mathiasdatter

Nave
.
3
     Per Brobakke married Solveig Rasmusdatter
Lunde
on 27 June 1953 at
Totland, Davik, Sogn og Fjordane, Norway
, at age 29.
4,3
"Per, another of Oline Nave's sons, we were able to know better after he and his wife visited USA for the Nordfjord Stevne. They came to our house after the stevne and we spend a few delightful days talking and showing them Wisconsin scenery. Per was a fairly quiet man and very much resembled my brother, Melvin Henden. Per's wife, Solveig, was a nice looking, vivacious woman. Per had had heart surgery ('84 or '85) and had recuperated well. He was a road builder and was with the crew that brought the road into Hennebygda where my father had been born. Solveig gave me some facts for this history for which I thank her very much. They had two beautiful well-behaved children and are now making the grandparents happy with the grandchildren." (Grønevik, Alma Stewart, 1987.)
4
     Per Brobakke died in 2012 at
Sogn og Fjordane, Norway
.
5