Melvin Olav Arthur Henden1
M, b. 23 April 1912, d. 22 November 1998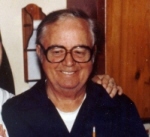 Melvin Henden circa 1978
     Ahnentafel/Henry number 00007.3.
     Melvin Olav Arthur
Henden
was born on 23 April 1912 at
Minneapolis, Hennepin, Minnesota, USA
.
1,2
He was the son of
Ole Abrahamson

Henden
and
Oline Eriksdatter

Vik
.
1
     Melvin Olav Arthur Henden married
Helen Grace

Owen
, daughter of
Levi Jacob

Owen
and
Nellie

Horton
, on 3 July 1938 at
Little Brown Church, Nashua, Chickasaw, Iowa, USA
, at age 26.
3,4
     Melvin Olav Arthur Henden was registered for the draft on 1 January 1943 at
Knox, Illinois, USA
; Melvin is described as (an unknown value.)
5

"Melvin grew up in Clarkfield. He served in the U.S. Air Force [US Army Air Forces, from his stationery--BJZ] during World War II as an aerial gunner. His plane crashed in the Everglades at one time and for 36 hours we didn't know if he had survived. During the Battle of the Bulge he was stationed in England and delivered supplies to the troops by air. After the war he went to work for Gamble Stores and worked in Marshalltown, Iowa and Spearfish, South Dakota. In 1953 Mel moved to Portage, Wisconsin, where he worked at Montgomery Wards and then as a newspaper distributor."-- Alma Henden Stewart,
Henden
(1987.)
6
He and
Ava

Voycheck
were MarrOther circa 1960. Melvin A. Henden was bereaved by the death of Ava
Voycheck
on 28 December 1996 at age 84.
7
     Melvin Olav Arthur Henden died on 22 November 1998 at
Portage, Columbia, Wisconsin, USA
, at age 86.
8,1
He was buried on 25 November 1998 at
Silver Lake Cemetery, Portage, Columbia, Wisconsin, USA
.
1