Philip Scheuermann1
M, b. October 1822, d. 30 March 1898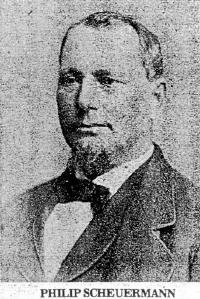 Phillip Scheuerman
     Philip
Scheuermann
was born in October 1822 at
Lohr am Main, Unterfranken, Bavaria, Germany
, son of
Catherine

Sherman
.
2,3,4,5
Philip Scheuermann was a journeyman millwright and carpenter in 1850.
6
Philip Scheuermann married
Agnes

Mayer
, daughter of
John

Weidemeir
, on 12 November 1851 at
Copper Falls, Keweenaw, Michigan
.
7,8,9
Philip Scheuermann built the
Quincy Stamp Mill, Quincy Township, Houghton, Michigan
, in 1859 or 1860 and was superintendent for over 22 years.
4
He and Agnes
Mayer
had six daughters. Philip Scheuermann bought the Union Brewery at
Adams, Houghton, Michigan
, from William Ault, with Frank Maywood and Ada Youngmann in 1863. Scheuermann bought out his partners between 1870 and 1875 and rebuilt the brewery to a capacity of 5,000 barrels per year.
6
He was widowed on 28 August 1863 at age 40 when his wife went down with the Steamer Sunbeam in Lake Superior; in a storm.
10
Philip Scheuermann married
Anna

Berger
on 7 July 1866 at
Hancock, Houghton, Michigan
.
11,12
Philip Scheuermann and Anna
Berger
had two sons and three daughters.
     (an unknown value) in 1895.
13
Philip Scheuermann died on 30 March 1898 at
Hancock, Michigan
, at age 75 at 2:30pm, of complications from diabetes. He was survived by wife Anna and his children Mrs. Joseph [Elisabeth] Hennes, Houghton; Mrs. Barney [Rosa] Schwanekem, West Superior; Mrs. George [Catherine] Ruppe, Hancock; Mrs. Robert [Magdalena] Geryin [Gervin], Buffalo [MI]; Mrs. Fred Hoeffling, Ontonagon; Philip, Chicago; Frank, Clara, Annie and Josephine of Calumet.
14,4
He was buried on 2 April 1898 at
Forest Hill Cemetery, Calumet, Houghton, Michigan
.
4