George Tarrant1
M, b. 16 April 1851, d. 17 March 1922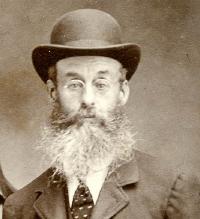 George Tarrant, 1851-1922
     George
Tarrant
was born on 16 April 1851 at
Mitcheldever, Winchester, Hampshire, England, United Kingdom
, son of
George

(the elder)

Tarrant
and
Mary Ann

Woodham
.
2,3,4
George Tarrant was christened on 19 April 1851 at
Winchester, England
.
4
George Tarrant married
Rose

Southwell
, daughter of
Henry

Southwell
and
Ann

Pritchard
, on 13 September 1874 at
Lockerley, Romsey; Mitchelmersh, Hampshire, England, United Kingdom
.
5,6
     "Geo. Tarrant and Rose Southwell married Sept. 13 1874 in England. Started for America the next day. Came to Ontario, Canada and in 1878 came to Saginaw where they lived for two years, then on a farm in Bridgeport township for 33 years and in 1913 they moved back to Saginaw [and] lived on So. 4th St. at 1017." --
(probably) Martha Tarrant.7
George Tarrant and Rose
Southwell
had seven sons and a daughter.
     George Tarrant was naturalized on 25 March 1899 at
Saginaw, Michigan
, renouncing allegiance to the Queen of Great Britain and Ireland.
8
This photo is of Rose Southwell and George Tarrant, probably about 1900.

George Tarrant died on 17 March 1922 at
Saginaw, Saginaw, Michigan
, at age 70.
9,6