John McGowan1
M, b. 17 August 1865, d. 3 January 1927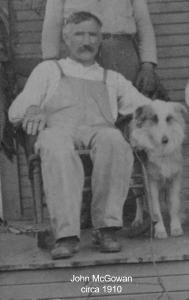 John McGowan, 1865-1927
     John
McGowan
was born illegitimate on 17 August 1865 at
Airdrie, New Monkland, Lanarkshire, Scotland, United Kingdom
, son of
Robert

MacDougal
and
Jane McKay

McGown
.
2,3,1

     John, born John McDougal, was born to Jane McGown and Robert MacDougal in Airdrie, Scotland. His mother took domestic service in nearby Glasgow and married when he was about 2 years old. He appears with his grandparents in 1871 and 1881, though both parents were nearby.
In about 1885, when he was about 20, he followed his mother's sister and her husband, John and Ann McMillan, to Manistee, Michigan, where he married. Whether he knew any of his half-siblings, some of whom apparently emigrated, is unknown. His emigration may have been prompted by his grandfather's death in February, 1885.
4,5,6,7,8
John McGowan married
Julia Ann

Hoffman
, daughter of
Charles

Hoffman
and
Mary

Booth
, on 31 December 1886 at
Manistee, Manistee, Michigan
.
8
John McGowan and Julia Ann
Hoffman
had four daughters. John McGowan was a machinist in a machine shop at West Allis.
9
John McGowan died on 3 January 1927 at
Birmingham Baptist Hospital, Birmingham, Jefferson, Alabama
, at age 61 of "acute diletatum" (enlargement) of the heart complicated by urine retention.
1,3,10

He was buried at
Oak Grove Cemetery, Manistee, Manistee, Michigan
.
1,11,12