Julia Ann Hoffman1,2
F, b. 5 June 1867, d. circa 24 October 1952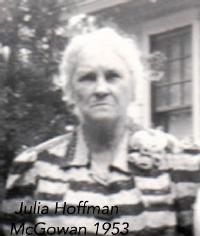 Julia Hoffman McGowan, 1953
     Julia Ann
Hoffman
was born on 5 June 1867 at
Grand Rapids, Kent, Michigan
, daughter of
Charles

Hoffman
and
Mary

Booth
.
1
Julia Ann Hoffman married
John

McGowan
, son of
Robert

MacDougal
and
Jane McKay

McGown
, on 31 December 1886 at
Manistee, Manistee, Michigan
.
3
Julia Ann Hoffman and John
McGowan
had four daughters. Julia Ann Hoffman was widowed on 3 January 1927 at
Birmingham Baptist Hospital, Birmingham, Jefferson, Alabama
, at age 59.
1,4,5

     Julia lived with the Hoeflings for many years. She spent summers in Manistee and winters in Saginaw with her daughter Julia's family.
6
Julia Ann Hoffman died circa 24 October 1952 at
Manistee, Michigan
.
1,7
She was buried on 27 October 1952 at
Oak Grove Cemetery, Manistee, Manistee, Michigan
; "Listed under the name Julia Mc Growan." - Hoefling Family.
1,7