LeRoy Charles Hoefling1
M, b. 5 May 1918, d. 29 December 1944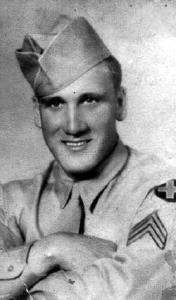 Roy Hoefling, ca 1943
     LeRoy Charles
Hoefling
was born on 5 May 1918 at
Saginaw, Saginaw, Michigan
, son of
Phillip George

Hoefling
and
Julia Louise

McGowan
.
1
LeRoy Charles Hoefling also went by the name of Scotty.
1
     Scotty took care of the younger children. He could draw and made flip books. He took care of the children on Friday night so Julia could go to her Rebekah meeting.
He put on plays, and made up games. One game he called "Hunting". He saved clothing boxes, and cut rifles and animal shapes from them. He pinned a "game license" on each of the younger children, and he was the game warden. They hunted around the house for the animals say 1937.
2
He was drafted and was a staff sergeant in the 136th Infantry Regiment of the 33rd Division, the Golden Cross Division. His preliminary training was at Camp Forrest, Tennessee; he was stationed at Ft. Lewis, Washington before going overseas on 7 April 1942 at
Hawaii
.
3,4
LeRoy Charles Hoefling died on 29 December 1944 at
Morotai Island, Moluku (Moluccas)
, at age 26 in World War II.
1
He was buried at
Forest Lawn Cemetery, Saginaw, Saginaw, Michigan
.
1