Alma Odrun Henden1,2
F, b. 28 July 1902, d. 5 April 1998
Relationship

Grandmother of Barbara Joyce

Zanzig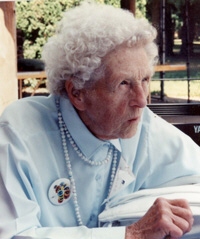 Alma Henden Stewart, 90th birthday (1992)
     Alma Odrun
Henden
was born on 28 July 1902 at
Clarkfield, Yellow Medicine, Minnesota, USA
B,G
.
3,1,2
She was the daughter of Ole Abrahamson
Henden
and Oline Eriksdatter
Vik
.
4,2,1
Alma Odrun Henden was christened on 24 August 1902 at
Clarkfield Lutheran Church, Clarkfield, Yellow Medicine, Minnesota, USA
B,G
.
2
The photo shows Oline, her sister Nelle, Alma and Bertha Henden and Bertine Waldrof in 1905.

She was a nurse, trained at Kahler Clinic in Rochester, Minnesota (now part of the Mayo Clinic.)
5

     Alma Odrun Henden married
Clarence Lee

Stewart

Jr.
, son of
Clarence Lee

Stewart
and
Marie Anna

Waldron
, on 8 September 1925 at
Zumbro Lutheran Church, Rochester, Olmsted, Minnesota, USA
B,G
, at age 23.
1,6


     Alma Odrun Henden died on 5 April 1998 at
Portage, Columbia, Wisconsin, USA
B,G
, at age 95.
7,1
She was buried on 9 April 1998 at
Shanks Cemetery, Town of Caledonia, Columbia, Wisconsin, USA
B,G
.
8
The Ole Henden family had a complicated relationship with Matt and Johanne Jurgenson's family. Alma lived with her uncle and aunt Matt and Johanne after her mother Oline died, and knew the Jurgenson children fairly well. Although Matt's older children aren't (immediately) related by blood to Alma, she thought of them as cousins just like the younger Jurgensons. She called them "shirttail relations".
     Alma's daughter Betty got reacquainted with Martin and Annie's sons Bob and Harris in Oregon in the 1980s, as well as Tom Beldin and Carole Hanson, Milla's and Judy's children respectively.
9